Vorpal Bunny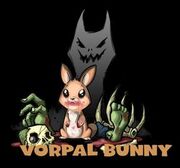 Cost: 100 gems
Power: ★★★★★
Defense: ★★★★★
Speed: ★
The Vorpal Bunny is an evil bunny that devours your enemy in 2 attacks.
Pro's
High damage
Can't be targeted
Fast
It doesn't attack very fast, but when it does, your foe won't see the sunlight ever again! The Vorpal Bunny attacks whenever it likes. Enemies see him as no threat because of his size (and how cute he is!), so he's not targeted, but DON'T underestimate him.
Ad blocker interference detected!
Wikia is a free-to-use site that makes money from advertising. We have a modified experience for viewers using ad blockers

Wikia is not accessible if you've made further modifications. Remove the custom ad blocker rule(s) and the page will load as expected.