Each of your Heroes can equip a pet to rampage through the dungeons with them. Pets will follow you through the dungeon and attack any nearby enemies!
Current Pets in ShopEdit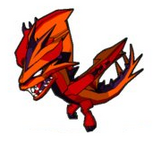 Flame Dragon Edit
"Tough, ranged pet. Shoots blasts of flames at enemies."
It can be bought for 75 Gems
Power: ★x4
Defense: ★x3
Speed: ★x2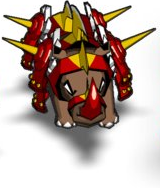 War Rhino Edit
"Melee tanker pet. Strong knockback and can ram through groups of enemies."
It can be bought with 60 gems
Power: ★x4
Defense: ★x4
Speed: ★x3

Night Wolf Edit
"Fierce and loyal melee pet. Collects any Star Items that it walks over."
It can be bought with 68 gems
Power: ★x1
Defense: ★x1
Speed: ★x3
Vorpal Bunny Edit
"Normally calm, but extremely dangerous when cornered."
It can be bought with 100 gems.
Power: ★x1
Defense: ★x1
Speed: ★x1
Extra Pet Information Edit
The Limited Edition pet is called the Shadow Wolf, a variant of the Night Wolf.
The Rare Limited Edition Pets are called the Dark Dragon and the Venom Dragon, variants of the Flame Dragon.
All pets health are limited. As a result they can be killed in dungeons by enemies or traps, but they will reappear after 60 seconds. Pets are a one-time purchase, and all of your Heroes can travel with any of your pets.
Pets can only be on one Hero at a time. If you wish to switch the pet to another Hero you can do so in the Storage area.
If you purchase a pet that you already have the game will have a pop-up warning notifying you that you are about to purchase a pet you already have.
Ad blocker interference detected!
Wikia is a free-to-use site that makes money from advertising. We have a modified experience for viewers using ad blockers

Wikia is not accessible if you've made further modifications. Remove the custom ad blocker rule(s) and the page will load as expected.