Night Wolf
- The Ferocious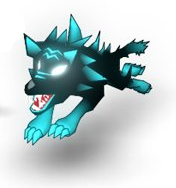 Cost:68 Gems
Attack: ★★★
Defense: ★★
Speed: ★★★★
-Fierce and loyal melee pet. Collects any Gold(Coins) and Star items that it walks over.
Please note that you CANNOT buy this pet with Coins
[WARNING: This pet can be sold to the shop for 180 Coins]
Pro's
Picks up money
Fast
The night wolf is a great partner for the Ranger or Vampire Hunter due to its aggresive AI. It can also work well on any Melee characters like the Berserker, Battle Chef or Ghost Samurai but don't expect it to last too long. With its low health and weak damage, it will pale as more of an enemy distraction than anything else. If you're able to heal it or support it at a distance then it will last much longer compared to without it.
New vs Old
Edit