Gems is the second as well as the most valuable currency in Dungeon Rampage. It is used for purchasing pets, items, chests, keys,and heros.
gems
You can open any chest to receive gems or earn free gems. The quantity depends on which chest you open.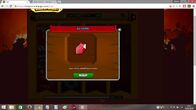 Do not request gems hack here. It is possible to hack gems. You can get free gem from chests.
Common Chest (Brown) : 25-50 10%
Uncommon Chest (Blue) : 75-100 20%
Rare Chest (Yellow) : 125-150 30%
gems

Legendary chest (Purple) : 175-200
Item Box : 5 gems
Royal Item Box = 10 gems