Gems are Dungeon Rampage's CASH currency also known as Real-Life Money. Gems are sold in the following packs: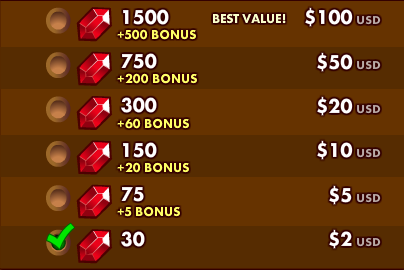 Players cannot find gems in dungeons or but you can win them by chance from Chests, Daily Bonus and Item Boxes. Gems can also be earned by signing up for deals (through Facebook) and by doing surveys. Players can use gems to purchase Coin Packs,Exclusive Hero, Exclusive Weapons, Hero Skins, Pets, Consumable Items/Boosters, Skill Retrain and Storage Increases.
The Gems also chance to get offers like the Dragon Knight.Dragon Knight is a Starter Offer by Dungeon Rampage.
Any player willing to spend money for Gems will often be better off than any player who doesn't. Since skills are based on the weapon and the weapon is based on level requirement and or cost.
The weapons that are Premium Weapons will always come with either high attack damage or an elemental effect such as Fire, Poison, Ice or Electricity. These Premium Weapons are only bought with Gems.
To get gems you can pay with master card, american express, paypal, mobile number credits and facebook card (facebook card is only used on facebook)
Free hero dragon
Edit
If you don't want to spend Real-Life Money to get Gems try completing one of the many ways to get FREE GEMS.
To do so, Click the "ADD" button next to the Gems Counter. Then a buy menu will pop up, don't worry about it. Next, go down to the bottom and you will see "Don't want to buy gems? EARN Gems". Click Earn gems and complete one of the avaliable options that are actually 'free'.
Many of these free offers include downloading apps to your smart phone or registering at a web site. Take caution when downloading or giving away personal information to any unknown website. Though there are many safe free offers, always take time to do a quick Google search on a website of app prior to starting the offer.
One example of a perfectly fine Free offer is 45 Gems for connecting a Credit Card or PayPal to your Facebook account. This is in place to subconiously entice you into making purchases. Either soon or in the near future. This offer most likely doesn't exist for you if you already have a Credit Card or Paypal connected.get with uncommon chest to get 100 gems.
Dungeon Bucks
Edit
There was another Cash currency before Dungeon Rampage ever had Gems, it was called Dungeon Bucks.
These would be close to (if not exactly the same) as Facebook Credits. The change to Gems was made January 4th 2012.
Get with chest!