Furball the Destroyer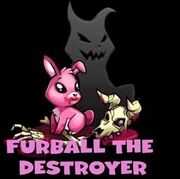 Cost: 300 Gems
Attack: ★ ★ ★ ★ ★
Defense:  ★ ★ ★ ★ ★
Speed:  ★
Evil bunny that decimates your enemies, it destroys faster than 
his Non-Rare counterpart the Vorpal Bunny.
"He has a deep dark furry secret" "he loves to kill'
Con's
Shoot iceballs at enemies
Furious 
Attacks on a regular basis devouring his enemy to nothing more then a pile of bones & blood. You don't want to stand between this eradicator and his master!