Froastguard is a place that is very famous among archers as strength is not needed only speed is needed 
The black viking
Edit
This viking is dangerous and carries a hammer. Best to use range.

Green bat
Edit
This bat spawns in packsw of 2, and not so dangerous. But like its purpl bat cousin, it droppes very good loot
Purple bat
Edit
This bat unleashes a series of deadly ice balls and destroys many of the rampagers. Droppes good loot.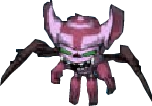 Ad blocker interference detected!
Wikia is a free-to-use site that makes money from advertising. We have a modified experience for viewers using ad blockers

Wikia is not accessible if you've made further modifications. Remove the custom ad blocker rule(s) and the page will load as expected.