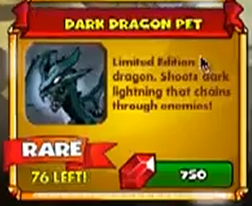 Dark Dragon - The Rare Limited Edition
Cost: 750 gems (Currently unavailable)
Power: ★★★★
Defense: ★★★
Speed: ★★
-Limited Edition dragon, Shoots dark lightning that chains through enemies!
No in-game picture available.
The Dark Dragon appeared in the Shop with the tag "RARE" and was being sold in limited quantities. If they sold out before you could get one, you now understand why. Currently it appears as if there will not be another chance.
Pro's
Only 100 pets left (expired now)
Range attack
Stuns enemies
Con's
Expensive pet (750 gems)
Bad when surrounded