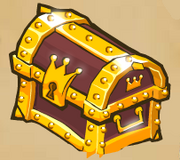 Your adventure began with a Chest and will continue to be influenced by them during the entirety of your dungeon experience. So far you can be rewarded by getting these from a Chest:

Each type of chest requires the same type of key.
| Chest Name | Chest | Description | Key |
| --- | --- | --- | --- |
| Common Chest | | A common palace chest, containing common loot! Includes an common key. | |
| Uncommon Chest | | An uncommon palace chest, containing even better loot! Includes an uncommon key. | |
| Rare Chest | | A rare palace chest, containing powerful loot! Includes a rare key to open it. | |
| Legendary Chest | | A legendary palace chest, containing the best of the best loot! Includes a legendary key to open it. | |
| Small Item Box | | A small item box, containing awesome Power-Ups! | N/A |
| Royal Item Box | | A royal item box, containing even more awesome Power-Ups! | N/A |
(Chests and Keys)
Old Chest System

Edit
Red Chest = Common Item
Blue Chest = Uncommon Item
Silver Chest = Rare Item around level 40+
Black Chest = Legendary Chest
Ad blocker interference detected!
Wikia is a free-to-use site that makes money from advertising. We have a modified experience for viewers using ad blockers

Wikia is not accessible if you've made further modifications. Remove the custom ad blocker rule(s) and the page will load as expected.